Flimp Case Study: NonProfit Fundraising
---
Video Email for Fundraising and Cause Marketing
Client: AIDS Across America - AIDS Awareness
| | | |
| --- | --- | --- |
| | About Chip Arndt | |
Chip Arndt, an entrepreneur and TV star, is a committed fundraiser for a nine HIV/ AIDS organizations based in New York City, Washington, DC and Florida. Over the past ten years, Chip has launched his annual CPR to AAA (Chip's Personal response to AIDS Across America) campaign, to raise money and awareness about HIV/AIDS.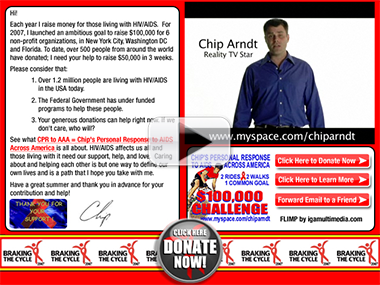 | | | |
| --- | --- | --- |
| | Marketing Objective | |
For the CPR to AAA campaign, Chip launched an ambitious goal to raise at least $25,000. An established fundraiser, Chip was looking for a way to contact prospective donors and encourage them to make an instant donation. Chip's Flimp videosite served as the foundation to his social networking and email marketing campaign.
| | | |
| --- | --- | --- |
| | Why FLIMP? | |
"I have raised money for over the past ten years and never before did I have a unique and fun way to reach people, which allowed them to donate instantly," said Chip Arndt. "I wanted to create what I like to call a 'point of purchase' type of reaction, ergo, the recipient sees the flimp, they are intrigued, they watch the video, they understand what I'm doing, they want to help, they are ready to help, and they want to act now, which many did right from the flimp videosite. The best part was that this campaign was easy to create, without having to consult a lot of people, and I could test it so see if people liked it before sending it out to over 10,000 people."
| | | |
| --- | --- | --- |
| | Campaign Results | |
In a three week timeframe, the CPR to AAA flimp videosites netted $9,500. Chip spent approximately 25 hours of time on his 2007 campaign, compared to the 161 AIDS Across America HIV/AIDS Awareness Fundraising Campaign hours spent on his 2006 efforts which only raised $5,000. "I saved time, had a greater reach and subsequent exposure, spent less money, built my database, and raised more money thanks to my flimp videosite," Chip noted. By distributing flash videosites via email, Chip was able to double the extent of his outreach, while spending less time and money. In total, 5,000 flimp video emails were sent out. Of the total emails delivered, 2,189 emails were opened for an email open rate of 43.78%. A total of 1,963 viewers clicked open and watched the flimp videosite message, representing 89.68% of total email opens. The 42 second video generated nearly 9 1/2 hours of total viewing time. A total of 111 or 5.65% of viewers clicked one of the videosite response links.

According to Chip, "when I raised about $20,000 in just three weeks using the FLIMP platform, I was astonished by the results. I loved the results so much that I am starting a FLIMP campaign for my company."
"I did not have time to create other forms of marketing for my HIV/AIDS fundraising campaign and only used FLIMP. The return on my investment in FLIMP was so dramatic and cost-effective that I did not see why I should bother with other forms of marketing like mailing or normal email. But I did create a MySpace site that had much more information about me, my work, facts about HIV/AIDs, etc., to which people could always refer to and complimented the FLIMP campaign. I had an "action button" on the FLIMP that said "Read more about Chip and HIV/AIDS" which redirected to that MySpace page and gave me great credibility.?




Chip Arndt,
Reality TV Star
| | | |
| --- | --- | --- |
| | Chip Arndt's HIV/AIDS Challenge. Viewer Engagement and Response Data | |