Flimp Case Study: NonProfit Fundraising
---
Video Email Brochures for Fundraising Event and Cause Marketing
Client: Give Us Your Poor - Helping the Homeless
---
About Give Us Your Poor
Give Us Your Poor (GUYP) is a Boston based nonprofit organization dedicated to ending homelessness by raising awareness of the issue and fundraising with the help of celebrity musicians and artists such as Natalie Merchant and Bruce Springsteen.
Marketing Objective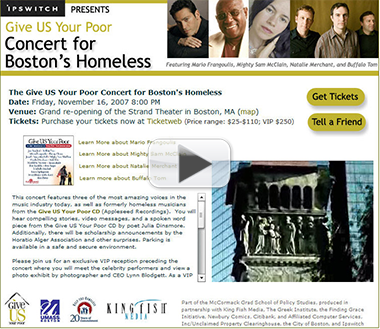 GUYP raises money and awareness for the homeless by working with celebrity musicians and artists to create and sell CD's and put on live concerts. The organization wanted an effective, low cost way to generate buzz and sell tickets for their Concert for Boston's Homeless using available video clips of the featured performers including Natalie Merchant, Buffalo Tom, Mario Frangoulis and Mighty Sam McClain.
The FLIMP Campaign
Using FLIMP and existing video content, Kingfish Media created interactive flash videosites video brochures for GUYP featuring each of Concert performers. The flimps were designed to raise awareness for both GUYP and the Concert for Boston's Homeless. The videosites video brochures were created using the FLIMP drag and drop WYSIWYG and required no programming. Four separate flimp videosites were sent out to GUYP's email database of donors and friends in the weeks leading up to the concert. Following distribution, GUYP was able to instantly collect viewer engagement, response and viral data. The flimp videosites video brochures were also embedded into the GUYP website using FLIMP web distribution tools.
Campaign Results
"We have great video content for telling our story, but trying to distribute and track an interactive video message using email or More Information: Give Us Your Poor: The Campaign to End Homelessness www.giveusyourpoor.org from our website is difficult and provides very limited data," said John McGah, Director of Give Us Your Poor. "We decided to use FLIMP to create and track viral video email campaigns that would elicit the "ooh and aah" factor to help our message stand out among the barrage of emails people receive every day. FLIMP enabled us to push out video music clips of featured artists to promote the concert and our brand quickly and easily, helping us make that emotional connection with the audience," says McGah. "Flimp got more attention from our audience than any other type of marketing we have used in the past and was an effective way to sell tickets and CD's and to get donations, given our limited staff." Four flimp videosite video brochure campaigns were sent separately by email one week apart to GUYP's opt-in email list. In total, 9,900 video emails were received and 4362 emails were opened for an email open rate of 44.0%. From the email opens, a total of 4115 people viewed the videosites (94.3% of email opens) and 3999 viewers successfully watched the video messages, representing a viewer engagement rate of 97.2%. Of those viewers, 583 or 14.6% watched the video to completion. Across the campaign, the average video duration was just under than 6 minutes. A total of 858 people or 21.4% of viewers clicked a response link and 241 people, or 6.0% of viewers forwarded to a friend. The average viewing time per person was 3 minutes 56 seconds and the combined viewing time
"The Flimp campaign got more attention from our audience than any other type of marketing we have used in the past and was an effective way to sell tickets, CD's and to get donations, given our limited staff. FLIMP also provided Give Us Your Poor with a way to distinguish ourselves from other organizations. We were able to brand our organization with a cutting-edge technology and make a professional, emotional connection with our audience."




John McGah, Director
Give Us Your Poor
Give Us Your Poor Flimp Videosite Video Brochure Campaign. Viewer Engagement and Response Data
Using FLIMP, four separate flash videosite video brochure email marketing campaigns were created, launched and tracked by viewer email address to promote the Give Us Your Poor concert.