Employee Benefits Communications Video-Engagement Rates Average 76 Percent for Large Employers
New Report Shows Results from 200 Digital Postcard Campaigns from 159 Organizations to 875,000 Employees
Boston, MA | August 1, 2017 – A new employee video communications report was released by Flimp Communications today highlighting results from 200 campaigns conducted with 159 large employers, such as Georgetown University, Stantec, ShoreTel and Regional Health, using interactive digital postcards. While a majority of the tracked digital postcard campaigns were sent by internal email to more than 875,000 employees, additional distribution methods are utilized, including QR codes, text messages and embedding directly into internal employee communications platforms. The average employee engagement rate across all campaigns was 76 percent and the average response rate among those employees was 147 percent with close to a million actions taken. The report features results from branded multimedia campaigns that contained educational videos, text and links to supporting documents and helpful resources. The report can be accessed here:

2017 Employee Video Communications Report:
Interactive Video and Multimedia for Year-Round Workforce Communications
Aggregate results from the internal video communications campaigns were as follows:
A total of 875,873 digital postcard emails were sent in 200 separate campaigns
665,664 employees viewed the digital postcard content = 76% engagement rate
978,114 individual clicks on digital postcard content = 147% response rate or 1.4 clicks per viewer
Average employee digital postcard viewing time was 3 minutes 20 seconds
Total employee viewing time was more than ~ 37,000 hours or 4 years
Visit our website to view examples of employee benefits enrollment videos and digital postcards.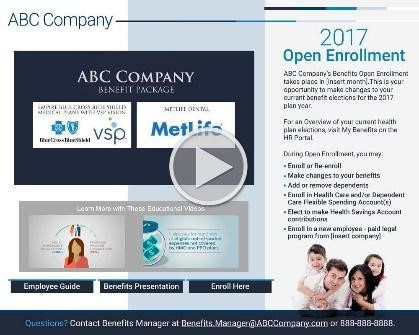 In the two years since Flimp released its last report, digital postcards have grown in popularity and evolved in tandem with how clients are using them. In 2015, a typical postcard featured a single video and two or three buttons. Today, it is common to include more videos to educate and several buttons, leveraging the all-in-one convenience for employees. See an example.
This growth allowed Flimp to increase the number of campaigns analyzed in its latest report from 40 to 200 while the response rate held steady at 76 percent. With more buttons to click and more videos to watch, employee response rates climbed dramatically from 94 to 147 percent and video-viewing rates rose from 104 to 139 percent. Mobile viewing also rose significantly from eight to 31 percent.
"Our HR team is so excited about the new digital postcards. They have allowed us to reach employees in all corners of the country with a crisp and consistent message," remarked Christy Fenner, HR Director at a.i. solutions. "We have saved countless hours for the HR team and employees by replacing the traditional in-person meetings with a slick digital delivery. Time is money and the digital postcards allow us a more efficient approach to budgeting HR dollars."
The video communications campaigns utilized employer-branded, interactive digital postcards and video content produced by Flimp, which specializes in creating HR benefits videos and presentations for employers, brokers and insurance providers. Its expanded animated video library offers more options for employers looking to include additional educational videos for their employees this enrollment season.
To learn more about these video communications campaign results and to download the 2017 Employee Video Communications Report, click here.
About Flimp Communications
Flimp Communications, with offices in Boston, MA, Denver, CO, and Manchester, UK, is a leading human resources, employee benefits and internal communications company that provides educational video content, benefits decision-support tools and interactive engagement solutions to large employers, benefits brokers, HR consultants, insurance carriers and healthcare providers. The FLIMP® AWS digital communications platform enables users to create, manage, host, distribute and track video and interactive multimedia content without any programming or IT resources. For more information, please visit flimp.net and flimpcommunications.net.